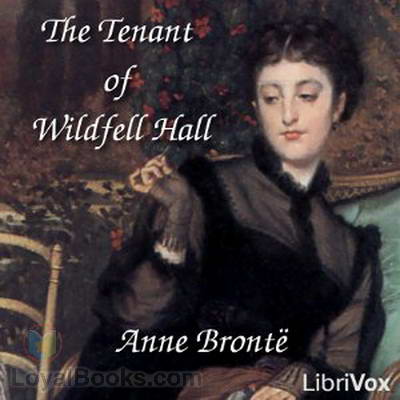 The Tenant of Wildfell Hall
Anne Brontë (1820-1849)
1. Chapter 01
2. Chapter 02
3. Chapter 03
4. Chapter 04
5. Chapter 05
6. Chapter 06
7. Chapter 07
8. Chapter 08
9. Chapter 09
10. Chapter 10
11. Chapter 11
12. Chapter 12
13. Chapter 13
14. Chapter 14
15. Chapter 15
16. Chapter 16
17. Chapter 17
18. Chapter 18
19. Chapter 19
20. Chapter 20
21. Chapter 21
22. Chapter 22
23. Chapter 23
24. Chapter 24
25. Chapter 25
26. Chapter 26
27. Chapter 27
28. Chapter 28
29. Chapter 29
30. Chapter 30
31. Chapter 31
32. Chapter 32
33. Chapter 33
34. Chapter 34
35. Chapter 35
36. Chapter 36
37. Chapter 37
38. Chapter 38
39. Chapter 39
40. Chapter 40
41. Chapter 41
42. Chapter 42
43. Chapter 43
44. Chapter 44
45. Chapter 45
46. Chapter 46
47. Chapter 47
48. Chapter 48
49. Chapter 49
50. Chapter 50
51. Chapter 51
52. Chapter 52
53. Chapter 53
(*) Your listen progress will be continuously saved. Just bookmark and come back to this page and continue where you left off.
Summary
An epistolary novel, The Tenant of Wildfell Hall follows the courageous journey of the protagonist, Helen Graham, as she struggles to escape her socially imposed role as dutiful wife, while also acting on her moral responsibilities as a mother and self-respect as a woman. Published in 1848, under the pseudonym Acton Bell, the novel provoked much criticism at the time of its release due to its shocking content and atypical portrayal of an English wife, who not only defies the strict conventions of society, but also consciously violates the law that legally represses the rights of women. The novel begins with the narration of Gilbert Markham, as he recounts the arrival of a mysterious widow who takes up residence in Wildfell Hall together with her young son. Introduced as Helen Graham, the tenant ignites much curiosity among the town's residents, as her reclusive behavior irritates their inquisitive nature. Consequently, Gilbert Markham, a young farmer, is also allured by her reticent nature and soon develops feelings towards the beautiful young woman. However, following a jealous outburst by Gilbert's spurned love interest, a series of scandalous rumors about Helen are spread throughout the town. Subsequently, the accusations inspire Helen to reveal the truth about her past to Gilbert, as she gives him her diaries which provide the answers to all his grueling questions. Nevertheless, Anne successfully presents a pivotal figure in feminist literature and is also regarded as having laid the foundations for gender equality, as the novel had finally evoked a much needed reaction from an otherwise passive society. Moreover, a compelling novel focusing on themes including marriage, betrayal, abuse, social oppression, duty, and morals, The Tenant of Wildfell is an insightful piece that offers a vivid illustration of life during the first half of the 19th century and the unequal treatment of women in a male dominated society. Regarded as one of the first sustained feminist novels, The Tenant of Wildfell Hall successfully secures Anne's literary reputation, as she masterfully employs a multi-layered plot and an endearing heroine, while simultaneously challenging the prevailing social and legal structures of the established norms of the Victorian era.
Reviews
Virginia
- The Tenant of Wildfell Hall
The voice of the main female character (Helen) is lively and engaging, as are some of the minor characters. The voice of the main male character (Gilbert) is not unpleasant, but his phrasing is unusual. I preferred to read those chapters of the novel. All in all, I'm very glad this recording is available.