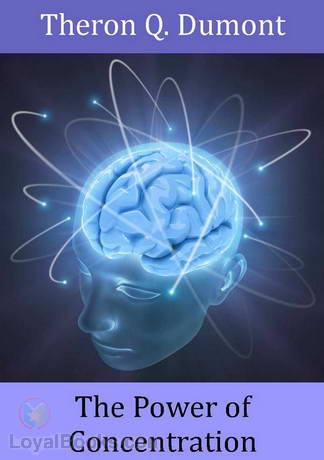 The Power of Concentration
Theron Q. Dumont (1862-1932)
1. 00 – Introduction
2. 01 – Lessons 1 and 2
3. 02 – Lessons 3 and 4
4. 03 – Lessons 5 and 6
5. 04 – Lessons 7 and 8
6. 05 – Lessons 9 and 10
7. 06 – Lessons 11 and 12
8. 07 – Lessons 13 and 14
9. 08 – Lessons 15 and 16
10. 09 – Lessons 17 and 18
11. 10 – Lessons 19 and 20
(*) Your listen progress will be continuously saved. Just bookmark and come back to this page and continue where you left off.
Summary
Though he wrote more than 100 books during his lifetime, Theron Q Dumont is largely a forgotten entity today. In fact, Theron Q Dumont is not even his real name. It is a pen-name adopted by William Walker Atkinson, an American polymath, who began his career as a grocer's assistant in nineteenth century Baltimore, studied law and went on to amass fame and fortune as a successful legal luminary. However, disaster struck when he suffered a nervous breakdown due to over strain and he lost everything that he had earned. He made an incredible comeback as a religious leader and follower of the New Thought philosophy. William Atkinson wrote under several pseudonyms like Yogi Ramacharaka, Thomas Sheldon, Magus Incognito, Swami Panchadasi and many others. Theron Q. Dumont was one such pen name that he used, to create the persona of a French writer who talks about the powers of the mind, memory enhancement, the will and using the power of personal magnetism to achieve one's ends. It was presumed that he adopted these pseudonyms to protect his legal career. The Power of Concentration was first published in Chicago in 1918. As a pioneering self help book, it deals with developing the faculty of deep concentration to achieve your personal and professional goals. Bending the entire power of your mind and focusing it on the thing you want to achieve apparently creates cosmic energies that will manifest the goal. For many modern day readers, this may sound extremely familiar. Current theories of coaching, mentoring and the plethora of "How To..." books that crowd bookstore shelves all contain ideas like this. The power of visualization, self-dialog, self-awareness, elimination of negative thoughts etc. are all presented in The Power of Concentration. The book also contains practical exercises for honing your powers of concentration, observation and keeping your focus sharp and keen. There are also excellent suggestions regarding diet and nutrition, exercise and physical fitness and their effect on the mind. However, the latter half of the book could be disappointing to some readers as it meanders through topics like cosmic rays, divine wisdom, etc which tend to delve into less than believable territory. However, as a self help manual, The Power of Concentration does indeed provide valuable tips on cultivating the now lost art of concentration. For today's generation which is subject to an infinite number of distractions and is prey to notoriously short attention spans, The Power of Concentration is a most valuable and useful guide.
Reviews
Rute
- The Power of concentration
It was not what I expected because I thought that it was just a book with some insights and knowledge about the mind, how we can concentrate better and perhaps some exercises to develop concentration but althought it had all of that, it also covered a variety of other subjects. I was able to find direct similarities with at least half a dozen books written in this century, and here, in an audiobook of only four hours, I got a direct summary of everything the others refer to. He approaches topics such as the Law of Attraction, the power of habits, focus and attention of the mind, including meditation, and especially in the last chapters gives several examples of exercises to improve concentration.
Albana
Very good book!
Cruzmaribel Lara
- The Power of Concentration
I am very interested in improving my opportunities for a better way to living. with today's media accessibility our focus is not given the maximum amount of time to reach its top level of power.
Enny
- Great Book!
Will keep to listen to again. Good and motivational.
Jakub
- The Master Mind / Power of Concentration
This man is one of the greatest of his kind. Take these books very seriously! Bear in mind, that 100 years ago they had different meaning under word "Ego". You have to read both of these books.
Q
- Awesome
Verify insightful. Recommended read if you are searching for a clear path toward personal elevation.
Bunny
I love this book! What's great about it is that it is so simple, yet can have such a profound effect on your life!
Booksholic.
- The Power Of Concentration.
I truly had always believed that one passes by things and people always for a particular reason .Nothing comes out of the norm,and me passing by this book and actually reading it was a great shot to realize what i had missed. I'm thankful for I had connected again with my inner powers. This book is totally recommended to all of you lost dwellers in search of your hidden abilities.
IndianaGuru
- The Power of Concentration
I have a whole new perspective on the world and the power of my mind, the outlook of my life and my future to come. Thank you for this gift.
Anh
Very motivating