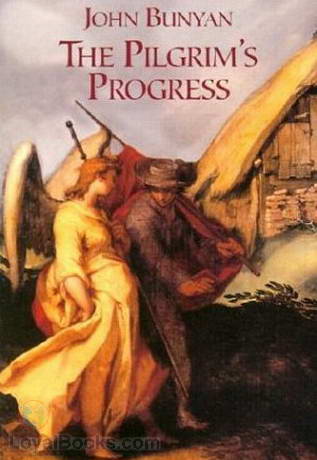 The Pilgrim's Progress
John Bunyan (1628-1688)
1. Author's Apology for his Book
2. The First Stage
3. The Second Stage
4. The Third Stage
5. The Fourth Stage
6. The Fifth Stage
7. The Sixth Stage
8. The Seventh Stage
9. The Eighth Stage
10. The Ninth Stage
11. The Tenth Stage
12. Conclusion of Part First
13. The Author's Way
14. Pilgrimage of Christiana and Her Children
15. The First Stage
16. The Second Stage
17. The Third Stage
18. The Fourth Stage
19. The Fifth Stage
20. The Sixth Stage (part 1)
21. The Sixth Stage (part 2)
22. The Seventh Stage
23. The Eighth Stage
24. Author's Farewell
(*) Your listen progress will be continuously saved. Just bookmark and come back to this page and continue where you left off.
Summary
A journey that takes the hero, Christian, through the varied landscapes that constitute life and through the events that happen to human beings is the plot of The Pilgrim's Progress by John Bunyan. Readers who have read and loved Louisa May Alcott's Little Women would recall the many references to this 17th century work of religious fiction. The Pilgrim's Progress is based on several values based in the teachings of Christianity. The importance of using the Bible as a guiding principle in life, of traveling not just geographically but also spiritually, the emphasis on community living and of the companionship of fellow people and many other themes. The story begins with a detailed explanation by the author in which he explains his beliefs about misconceptions in people's minds about religion and fiction. He examines the role of stories and parables in the Bible and how they are used to teach us certain lessons about life. The narration goes on to portray a dream that the narrator has once when he is wandering in the wilderness. In the dream, a man named Christian is visited by a spiritual guide called Evangelist who urges him to leave his home in the City of Destruction and embark on an arduous journey to the Celestial City. Christian's family and friends refuse to go with him and he finally leaves alone, carrying a heavy burden. The rest of the book describes the strange and laborious journey, punctuated by grief, disappointment, fear and many difficulties. Each of these incidents are portrayed as different people or places that Christian has to pass or overcome before he can continue on his journey and reach his final glorious destination. Written in the period between 1677-84 by writer/preacher John Bunyan whose own life was as eventful, fraught with suffering and misfortunes, The Pilgrim's Progress was written during one of his terms of imprisonment for violating religious laws. The book received enormous acclaim and went on to become one of the most popular religious texts in Christianity. It was translated into many languages and was used by preachers and missionaries the world over. The Pilgrim's Progress retains enormous appeal for its imaginative and lyrical prose, wonderful descriptions of landscape and travel, simple yet elegant style and also for the delightful touches of humor. Many of the names of places are phrases taken from the Bible, which went on to become common idioms. For modern-day readers, both young and old, Pilgrim's Progress is an interesting and inspiring read.
Reviews
PilgramsProgressLover
- This is a beautiful book
So well written. I think that this book should be read by everyone. I loved it.
C
- Pilgrim
Touched my heart and spirit deeply. Excellent book, excellent reader!
Mary
- The Pilgrim's Progress
Thank you for such a good reading of this very good book. Agree with Dave (2013 reviewer) of reader's clear understanding and appreciation of book's content.
glenda
- pilgrims progress
best book ever, over and over again
Elise
- The Pilgrim's Progress
I love this book. one of the best books of all time
Laura
- The Pilgrim's Progress
This is a very deep book and every Christian should read it.
Dave
- Oral interpretation
Excellent reading of an excellent book. Bunyan's 17th century English can be a bit hard to understand in spots, but the reader helps her listeners as much as possible to understand through the expression, phrasing, and intonation with which she reads, demonstrating clearly her own understanding and appreciation of Bunyan's writing.
April
- Review
Excellent book. Love the constant scripture references. During Christian's battle/speech against Apollyon (The Fourth Stage), the Author (Bunyan), seems as though he penned Christian's speech freshly after reading Martin Luther's "To Argue As the Penitent". This speech (both "Fourth Stage" and "To Argue As the Penitent") is a great debate/confession of faith. Very excellent speech.