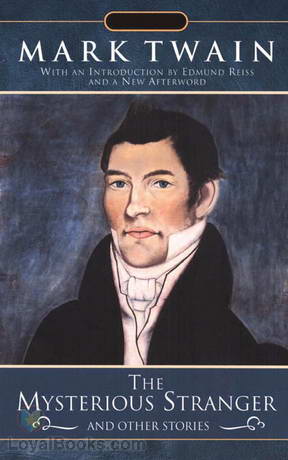 The Mysterious Stranger
Mark Twain (1835-1910)
1. Chapter 01
2. Chapter 02
3. Chapter 03
4. Chapter 04
5. Chapter 05
6. Chapter 06
7. Chapter 07
8. Chapter 08
9. Chapter 09
10. Chapter 10
11. Chapter 11
(*) Your listen progress will be continuously saved. Just bookmark and come back to this page and continue where you left off.
Summary
The Mysterious Stranger-A Romance- is the final novel attempted by Mark Twain. It was worked on periodically from roughly 1890 up until 1910. The body of work is a serious social commentary by Twain addressing his ideas of the Moral Sense and the "damned human race". The Harper & Brothers publication of the book is illustrated by N.C. Wyeth.
Reviews
De'Cemberla' Blaine
absolutely brilliant I loved it from the beginning to the end.