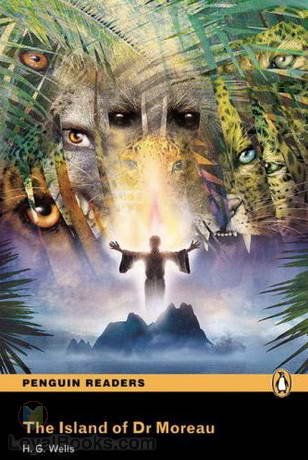 The Island of Dr. Moreau
H. G. Wells (1866-1946)
1. 00 – Introduction
2. 01 – In the Dingey of the Lady Vain
3. 02 – The Man who was Going Nowhere
4. 03 – The Strange Face
5. 04 – At the Schooner's Rail
6. 05 – The Man Who Had Nowhere To Go
7. 06 – The Evil-Looking Boatmen
8. 07 – The Locked Door
9. 08 – The Crying of the Puma
10. 09 – The Thing in the Forest
11. 10 – The Crying of the Man
12. 11 – The Hunting of the Man
13. 12 – The Sayers of the Law
14. 13 – The Parley
15. 14 – Doctor Moreau Explains
16. 15 – Concerning the Beast Folk
17. 16 – How the Beast Folk Taste Blood
18. 17 – A Catastrophe
19. 18 – The Finding of Moreau
20. 19 – Montgomery's Bank Holiday
21. 20 – Alone with the Beast Folk
22. 21 – The Reversion of the Beast Folk
23. 22 – The Man Alone
(*) Your listen progress will be continuously saved. Just bookmark and come back to this page and continue where you left off.
Summary
One of the first instances of science fiction, Wells' classic tale published in 1986 examines various controversial philosophical issues active at the time of its publication, most notable being the implications of vivisection and degeneration. Narrated by its everyman protagonist Edward Prendick, the novel follows the events of his stay at a mysterious island, home to ghastly secrets, horrors, and incomprehensible experiences. Furthermore, the novel features innovative themes which have become iconic in the modern science fiction genre, including moral and ethical responsibility, evolution, and man's interference with the course of nature. The novel begins when Edward Prendick, an educated gentleman is shipwrecked in the middle of nowhere, and is taken aboard a passing ship where he is revived by a man later introduced as Montgomery. The man explains to Prendick that he is headed to a private island where he works, along with the animals on the ship. While on board, Prendick also meets a gruesome brute by the name of M'ling, whom he believes to be Montgomery's manservant. When Montgomery reaches his destination he initially refuses to accommodate Prendick after the captain demands he leave the ship, but later takes pity on his bleak circumstance and agrees to put him up. The protagonist is subsequently introduced to the cold and intense Dr. Moreau, whom Prendick recognizes as a former distinguished physiologist in London, whose horrific experiments in vivisection had been publicly exposed. Prendick is housed in an outer room of the enclosed compound, and is cautiously locked out of the inner part. Conquered by curiosity, he decides to explore the jungle where he comes face to face with a startling figure that marks the beginning of his task to unearth the shocking truth behind the segregated island and its beastly population. The Island of Dr. Moreau brilliantly intrigues readers with its generous serving of ingenuity, abominable imagery and chilling hypothesis of the possible dangers of scientific progression. A literary classic, the novel imposes many ethical questions still relevant to modern society, and certain to provoke reaction.
Reviews
Bernard Dun
- What were they thinking!
In chapter 16, the narrator sounds like 3 pack a day smoker, and it just ruined that WHOLE chapter for me. The people that work this need to pick better people to read the book.
Candace Barley
- Bad reader
The lady that read chapters 16, 17, and 22 was awful!!! Please do not let her ruin anymore books!!!
Tamara
- Poor Narration
Chapter 16 should be read by anyone else. It was like nails on a chalkboard.
Alana
- Bad readers
Chapter 16 - the woman reading this chapter is ridiculous. She should not read aloud to any one. It ruins the book.
Julie
- Review Dr Maroe
Loved it. Some excellent readers, some not. Short book though. I would recommend this book.
Emma
Probably a great book, but I gave up halfway through ch.3 as reader faded away at the end of sentences which was really frustrating.
Dean
- Some poor reading
Great story. Unfortunately, Chapters 16, 17 & 22 are very muffled and garbled. This made it very difficult to follow.
Sara
- Good
I love this!
- Since Fiction
Good