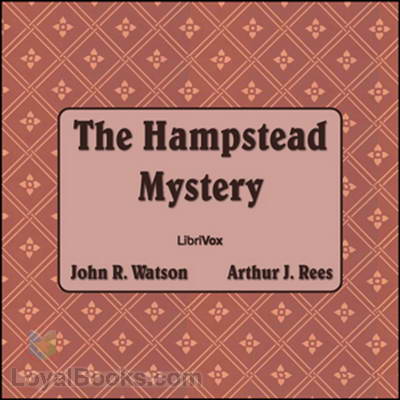 The Hampstead Mystery
John R. Watson
1. Chapter 01
2. Chapter 02
3. Chapter 03
4. Chapter 04
5. Chapter 05
6. Chapter 06
7. Chapter 07
8. Chapter 08
9. Chapter 09
10. Chapter 10
11. Chapter 11
12. Chapter 12
13. Chapter 13
14. Chapter 14
15. Chapter 15
16. Chapter 16
17. Chapter 17
18. Chapter 18
19. Chapter 19
20. Chapter 20
21. Chapter 21
22. Chapter 22
23. Chapter 23
24. Chapter 24
25. Chapter 25
26. Chapter 26
27. Chapter 27
28. Chapter 28
29. Chapter 29
30. Chapter 30
31. Chapter 31
32. Chapter 32
33. Chapter 33
(*) Your listen progress will be continuously saved. Just bookmark and come back to this page and continue where you left off.
Genres
Summary
A Murder Whodunit!Location: Hampstead, England.Victim: Sir Horace Fewbanks, a distinguished High Court judge. Cause of death: gun shot wound.Investigator: Private Detective Crewe, a wealthy bachelor who has taken up crime detection as a hobby, because it provides intellectual challenges more satisfying even than playing twelve simultaneous boards against Russian chess champion Turgieff.His sidekick: Joe is a fourteen year old Cockney boy, whom Crewe saved from a life of crime by hiring him as a messenger-boy and shadower.Other whodunit elements: clues galore, suspects in abundance, an inquest, a trial, and an elegant resolution.
Reviews
Diane
- The Hampstead mystery
Very good!
oceanjasper
- Dated but interesting
This book has a twisty plot that maintains the reader's interest, although its structure doesn't always make the most of its revelations. The main reader is a bit wooden but this somehow adds to the period feel of the story. It's fascinating to see early examples of the murder mystery genre.
- Great
One of the hidden gems of the site. The main reader LR is really, really excellent too!
JMR
Good and mostly very well read.
Carolyn
- surprising whodunit
Enjoyable period mystery
Cerise
- Good tale
Good story, lots of surprises and all of them fair ;-) Very good reader.