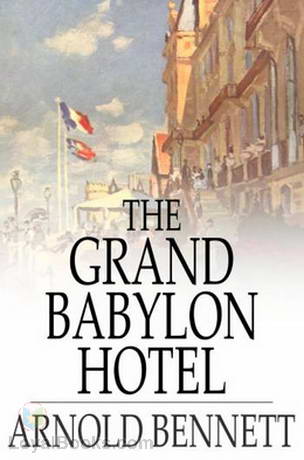 The Grand Babylon Hotel
Arnold Bennett (1867-1931)
1. 01 – Chapter 1 & 2
2. 02 – Chapter 3 & 4
3. 03 – Chapter 5 & 6
4. 04 – Chapter 7 & 8
5. 05 – Chapter 9 & 10
6. 06 – Chapter 11 & 12
7. 07 – Chapter 13 & 14
8. 08 – Chapter 15 & 16
9. 09 – Chapter 17 & 18
10. 10 – Chapter 19 & 20
11. 11 – Chapter 21 & 22
12. 12 – Chapter 23 & 24
13. 13 – Chapter 25 & 26
14. 14 – Chapter 27 & 28
15. 15 – Chapter 29 & 30
(*) Your listen progress will be continuously saved. Just bookmark and come back to this page and continue where you left off.
Summary
Theodore Racksole, a rich American multi-millionaire, buys the Grand Babylon Hotel, a luxurious hotel in London, as a whim – and then finds out there are strange things going on – a German prince is supposed to arrive but never turns up, someone is found murdered in the hotel, but then the body disappears. With the help of his independent daughter Nella and another German prince, Racksole sets out to solve the mystery.Bennett wrote this as a 15-part serial, for a lark, in 15 days, and sold it for 100 pounds. It first appeared in The Golden Penny in 1902, which described it as "the most original, amusing, and thrilling serial written in a decade".
Reviews
Brucespult
- REF
Good time and Good mood, thanks.
Diane
- The grand Babylon hotel
Wonderful story, enough mystery and humour and well read, except for pronouncing yacht as Yort , Thames as thems, and the bowing as beauing. Which certainly does not distract from the reading.
Helen L
- The Grand Babylon Hotel
I enjoyed this book, it is a great story and very well read.
andy wogan
- the grand hotel babylon
Thoroughly enjoyed this story though would not have put in the comedy genre. Very well read by Anna except for pronouncing bow as beau and there is an awful lot of beauing in the tale She did correct this in chapter 28 which amused me and in no way did it detract from her telling.