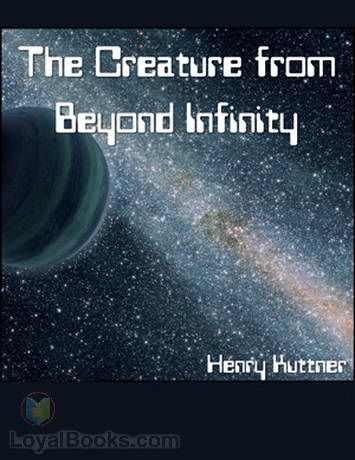 The Creature from Beyond Infinity
Henry Kuttner (1915—1958)
1. 1 – Chapters 01-03
2. 2 – Chapters 04-06
3. 3 – Chapters 07-09
4. 4 – Chapters 10-12
5. 5 – Chapters 13-15
6. 6 – Chapters 16-18
7. 7 – Chapters 19-20
(*) Your listen progress will be continuously saved. Just bookmark and come back to this page and continue where you left off.
Genres
Summary
A lone space traveler arrives on Earth seeking a new planet to colonize, his own world dead. At the same time a mysterious plague has infected Earth that will wipe out all life. Can a lone scientist stop the plague and save the world? Or will the alien find himself on another doomed planet?
Reviews
Bella
- Entertaining book
Great narration. The book was rather enjoyable if you are into classic science fiction.
Lucy
- Brilliant narration
I've read and listened to a lot of sci-fi but the thing that makes this so good is the narration. Such a brilliant reader. Thank you.
Casi
Mark Nelson is such an excellent reader! He kept me interested in this story all the way thru. There is no background noise and the recording is very clear. Kutter himself desires a lot of the reader: in terms of suspension of disbelief, in this novel. The largest leap of faith for me involves the two main story lines, which in themselves are interesting. However, the two arches converge in a way that required me to simply accept the premise of the protagonist conclusion-that he must journey into space-without having any solid logic behind the character's decision to take that action. Otherwise a fun book: science, warriors, past, present, preservation, possibility and psychology.
- Well worth the time!
This was a slow starting adventure. At first I wasn't very interested in the plot or characters, but by the halfway point I was hooked and couldn't wait to find out what happened next. Plenty of action and suspense. And the reader did a perfect job. I'd recommend this story to any sci-fi enthusiast. This was well worth listening to.