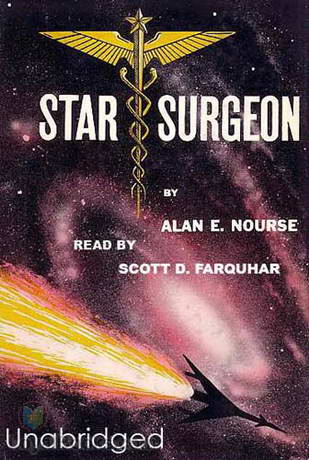 Star Surgeon
Alan Edward Nourse (1928-1992)
1. 01 – The Intruder
2. 02 – Hospital Seattle
3. 03 – The Inquisition
4. 04 – The Galactic Pill Peddlers
5. 05 – Crisis on Morua VIII
6. 06 – Tiger Makes a Promise
7. 07 – Alarums and Excursions
8. 08 – Plague
9. 09 – The Incredible People
10. 10 – The Boomerang Clue
11. 11 – Dal Breaks a Promise
12. 12 – The Showdown
13. 13 – The Trial
14. 14 – Star Surgeon
(*) Your listen progress will be continuously saved. Just bookmark and come back to this page and continue where you left off.
Summary
A thrilling intergalactic adventure, Star Surgeon follows the journey of Dal Timgar as he strives to achieve his lifelong goal of becoming a physician. Published in 1959, the novel explores themes of discrimination, prejudice, and racial oppression, while also presenting key elements of science fiction including interplanetary travel, intergalactic medicine, aliens, and advanced technology. The thrilling tale begins with the introduction of Dal Timgar, a young alien from Garv, who has aspired to become a doctor for as long as he can remember. However, his aspirations seem far-fetched, as the only race to have been properly trained and acclaimed in the field of medicine are the men from the planet Earth, who make up the sole team of doctors serving in the Galactic Federation. Incidentally, the Galactic Federation has an established set of guidelines in which each of its members offer a particular service or practice a certain profession restricted to their race alone. Keeping his eyes on the prize, Dal is later accepted into Hospital Earth and is excited to be one step closer to turning his dream into a reality. Even more remarkable is the fact that he is the first non-human to receive medical training. However, not everyone is thrilled by Dal's laudable desire to become a physician, as he is viewed as a threat to Earth becoming a full member of the Galactic Federation. Experiencing many inconveniences and discouragement at numerous occasions, Dal nevertheless brushes aside the negativity and manages to get through his training. Despite his efforts, Dal soon realizes that his troubles have just begun, as he must face countless obstacles, trials, and setbacks in his mission to become a full-fledged star surgeon. Comprised of a gripping plot, memorable characters, and an exciting setting, Star Surgeon is sure to engage any fan of the science fiction genre, as Nourse successfully interweaves variety, description, and detail to create a captivating piece that is out of this world.
Reviews
Robert E Cottrell
- Star Surgeon
An interesting and consuming story. Well written.
Carolyn Blake
- Riveting!
Excellent story, riveting and beautifully written. It's a vision of the future I wish I lived in now. Follow Dal as he grows into his power and confidence. You care about these characters. Scott Farquhar is an excellent narrator.
Denny Dow
- Well Done
The plot and story are very well crafted. Thought provoking, too. And the reader was surprisingly good.
Jed
- Fantastic!
Loved it!
Eric K.
- Classic Sci-fi
I loved the book. The plot is full of twists and always keeps you thinking. Scott Farquhar is an excellent narrator.