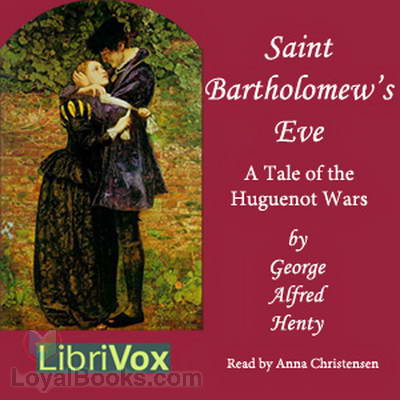 St. Bartholomew's Eve
George Alfred Henty (1832-1902)
1. 00- Preface
2. 01- Driven From Home
3. 02- An Important Decision
4. 03- In A French Chateau
5. 04- An Experiment
6. 05- Taking the Field
7. 06- The Battle of St. Denis
8. 07- A Rescue
9. 08- The Third Hugenot War
10. 09- An Important Mission
11. 10- The Queen of Navarre
12. 11- Jeanne of Navarre
13. 12- An Escape from Prison
14. 13- At Laville
15. 14- The Assault On The Chateau
16. 15- The Battle of Jarnac
17. 16- A Huguenot Prayer Meeting
18. 17- The Battle of Moncontour
19. 18- A Visit Home
20. 19- In A Net
21. 20- The Tocsin
22. 21- Escape
23. 22- Reunited
(*) Your listen progress will be continuously saved. Just bookmark and come back to this page and continue where you left off.
Summary
Set in the days of the religious wars of Europe, St. Bartholomew's Eve is the tale of the Huguenot's desperate fight for freedom of worship in France. As the struggle intensifies the plot thickens, culminating in the dreadful Massacre of St. Bartholomew's Eve. Henty, "The Boy's Own Storyteller" weaves the life and adventures of Philip Fletcher and his cousin, Francois DeLaville, into the historical background with thrilling battles, sieges and escapes along the way (not to mention a fair damsel in distress!).
Reviews
Very good ,clear reading
Daniel Maddux
- Good voice, poor pronounciation
Really good energy in her voice. I appreciate her work. However, the fact that she didn't seem to have any idea how to pronounce many of the names, especially the French ones, almost drove me bonkers. I still haven't gotten over "Perry" for "Pierre".