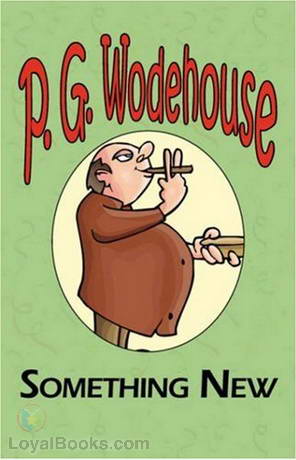 Something New
P. G. Wodehouse (1881-1975)
1. Chapter 01
2. Chapter 02
3. Chapter 03
4. Chapter 04
5. Chapter 05
6. Chapter 06
7. Chapter 07
8. Chapter 08
9. Chapter 09
10. Chapter 10
11. Chapter 11
12. Chapter 12
13. Chapter 13
14. Chapter 14
15. Chapter 15
(*) Your listen progress will be continuously saved. Just bookmark and come back to this page and continue where you left off.
Summary
When the absent-minded Earl of Emsworth wanders off with the pride of his scarab collection, American millionaire J. Preston Peters is willing to pay $5000 to the person who can get it back for him. Discretion is necessary since Peters' daughter is engaged to Emsworth's son. Joan Valentine and Ashe Marson both decide to go after the reward—she as Aline Peter's ladies maid, and he as Mr. Peter's valet—and they all end up at Blandings Castle. But is it possible for anyone to steal back the scarab with The Efficient Baxter ever vigilant? This is, IMHO, one of Wodehouse's funniest novels. –Debra Lynn
Reviews
Joan R.
I agree with hannes - it took me about 10 minutes to get used to the accent, but then I really enjoyed the book. I recommend it to anyone who likes a fun story.
hannes
initial feel was bad reader, after a while i got used to it and now really enjoying it
nicolthepickle
I really enjoyed this book. All of PG Wodehouse's books are fun and have little laugh out loud bits in them. Also the reader was very easy to listen to.
Steve S
- Something New
I disagree with the other reviews and find this easy to understand as well as easy to listen to. Good job!
Very bad reader.