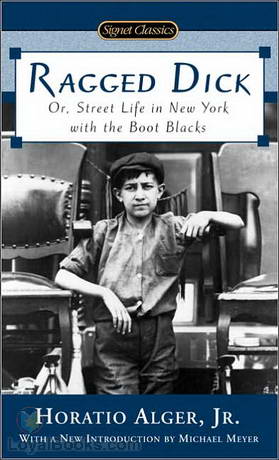 Ragged Dick
Horatio Alger, Jr. (1832-1899)
1. Ragged Dick – Chapters 01 and 02
2. Ragged Dick – Chapters 03 and 04
3. Ragged Dick – Chapters 05 and 06
4. Ragged Dick – Chapters 07 and 08
5. Ragged Dick – Chapters 09 and 10
6. Ragged Dick – Chapters 11 and 12
7. Ragged Dick – Chapters 13 and 14
8. Ragged Dick – Chapters 15 and 16
9. Ragged Dick – Chapters 17 and 18
10. Ragged Dick – Chapters 19 and 20
11. Ragged Dick – Chapters 21 and 22
12. Ragged Dick – Chapters 23 and 24
13. Ragged Dick – Chapters 25, 26, and 27
(*) Your listen progress will be continuously saved. Just bookmark and come back to this page and continue where you left off.
Summary
A fourteen year old homeless boy, Dick, tries to make an honest living in the streets of 1860s New York as a bootblack. He is determined to stay honorable, though he is tempted many times to easy pickings and a life of crime. When a regular customer is impressed by Dick's integrity and invites him to his mansion, this marks a turning point in the life of the young street-smart teenager. Ragged Dick by Horatio Alger Jr was first published in 1868. It represents a typical coming of age story in which a child attains the maturity of adulthood through circumstances in which important choices are made. It was the first in a six-series set written by the prolific American writer, best known for his stories of young boys who overcome poverty and social disadvantages to become assimilated in the great American middle class. Many of Alger's stories follow a well-known theme and formula but were extremely well-received and popular among readers of a previous generation. Ragged Dick was an instant best-seller and achieved huge attention from old and young readers and critics alike. Alger went on to write more than a hundred novels, though his later works were more sensational and characterized by violence and murder, and not found very suitable for young readers. Horatio Alger was dismissed from service as a Unitarian minister under suspicious circumstances, though nothing was proven against him. He began working as a volunteer in New York's slum areas, helping to provide assistance to young homeless people. Around this time, he started writing articles in journals and finally moved into novel writing. Ragged Dick first appeared in the journal Student and Schoolmate, a magazine for young boys and girls, as a 12-part serial and copies of the magazine sold out almost instantly. It caught the American imagination and skilfully portrayed the hard, coarse, brutal and unforgiving life of the New York slum as no other book had before. Genteel, educated readers had perhaps never encountered the situations depicted in Ragged Dick. This novelty was probably what accounted for the book's success. It was later adapted to stage and as a musical opera called Shine! Besides novels, Alger wrote poetry, essays and articles for various magazines. His work in rehabilitation and assistance to the underprivileged kids of New York is well-known. He left several unfinished books which were completed according to his last will and testament by Edward Stratemeyer, the creator of the Hardy Boys and Nancy Drew series. An interesting read for young and old alike!
Reviews
ciarli
oh so well narrated
fantastic book and a great learning tool for Adults to listen to and adhere to the same principals that Dick used to get ahead in life
dg
I'm sure it would be great for children to listen; not so much for adults. Couldn't continue.
Bernie
- Ragged Dick
Cute story, well narrated.
Rachael
- Kids loved it
My kids ages 12 and down loved it. Good reader and a great story.
Danny Adams
- Inspiring Adaptation
A story of a boy who had less than nothing. Through friendship, kindness, and hard work of his own doing, he makes himself a person that anyone would be proud to call a friend. He has no parents. A street orphan in a big city, sleeping in doorways and cardboard boxes in the alleyway's. With the help of another orphan, he learns to read and write. A great story for all ages. From zero to hero, on his own.