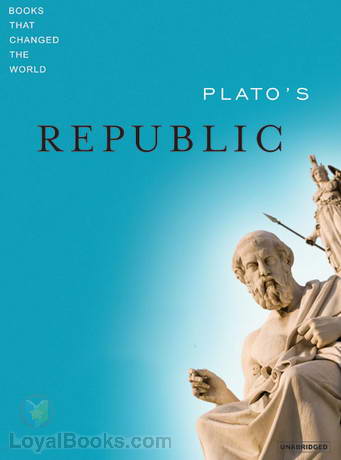 Plato's Republic
Plato (427-347)
1. 01 – Introduction pt 1
2. 02 – Introduction pt 2
3. 03 – Bk 1 pt 1
4. 04 – Bk 1 pt 2
5. 05 – Bk 1 pt 3
6. 06 – Bk 1 pt 4
7. 07 – Bk 2 pt 1
8. 08 – Bk 2 pt 2
9. 09 – Bk 2 pt 3
10. 10 – Bk 2 pt 4
11. 11 – Bk 3 pt 1
12. 12 – Bk 3 pt 2
13. 13 – Bk 3 pt 3
14. 14 – Bk 3 pt 4
15. 15 – Bk 4 pt 1
16. 16 – Bk 4 pt 2
17. 17 – Bk 4 pt 3
18. 18 – Bk 4 pt 4
19. 19 – Bk 5 pt 1
20. 20 – Bk 5 pt 2
21. 21 – Bk 5 pt 3
22. 22 – Bk 5 pt 4
23. 23 – Bk 6 pt 1
24. 24 – Bk 6 pt 2
25. 25 – Bk 6 pt 3
26. 26 – Bk 6 pt 4
27. 27 – Bk 7 pt 1
28. 28 – Bk 7 pt 2
29. 29 – Bk 7 pt 3
30. 30 – Bk 7 pt 4
31. 31 – Bk 8 pt 1
32. 32 – Bk 8 pt 2
33. 33 – Bk 8 pt 3
34. 34 – Bk 8 pt 4
35. 35 – Bk 9 pt 1
36. 36 – Bk 9 pt 2
37. 37 – Bk 9 pt 3
38. 38 – Bk 1 pt 10
39. 39 – Bk 10 pt 2
40. 40 – Bk 10 pt 3
41. 41 – Bk 10 pt 4
(*) Your listen progress will be continuously saved. Just bookmark and come back to this page and continue where you left off.
Summary
Plato's Republic is a Socratic dialogue which deals mainly with the definition of justice, the characteristics of a just city state and the just man. Although it was written more than two thousand years ago, many of the ideas and thoughts expounded here are still very much relevant to modern society. This is Plato's best known work and is also considered his most influential especially when it comes to the fields of philosophy and political theory. The Republic is divided into ten books and in each book Socrates discusses different topics from the immortality of the soul to the meaning of justice with his disciples like Glaucon, Thrasymachus, Adeimantus and others. The first two books focus on justice and its meaning. After hearing the arguments of his disciples, Socrates made a very enlightening statement when he said that it's the advantage of a person to be just and it's his disadvantage to be unjust. A statement like this can be very much true today as it is thousands of years ago. After that, they continued their discussions about education and the guardian class. I'm sure many have already heard about the guardians, in this book Socrates referred to them as the ideal rulers of an ideal city. Book eight of the The Republic discusses the different types of government, some of which we're familiar with today. Socrates referred to the different types of governments as timocracy, oligarchy, democracy and tyranny. It's interesting to note that he considered these types of governments including democracy as unjust. He said that in a democracy there's a strong tendency for the poor people to revolt against the rich class because the rich enjoy too much freedom in this kind of government. This work by Plato is a timeless classic and it laid the ground work for many important modern philosophical and political ideas. This book is definitely a good read especially to political science or law students and the philosopher in all of us.
Reviews
Thee
- Book 2 part 2
Book 2 part 2 is so poorly done it's basicly unintelligible. Not sure if it was important but i skipped that part after 2 minutes of trying.
kyle
- Great job!
thanks for reading this! Book 2 part two needs to be redone. The accent is way to heavy unfortunately.
Adam
- Just hear to listen
Book 2 part 2 needs to be redone please. I have found the book so far to be really amazing and well read the only part that was hard to listen to was Book 2 part 2. Great job and thank you for all your hard work on making this possible to listen to such an amazing book.
The form of good
- Well done!
I really appreciate the time y'all took to help me get through studying in a different way. I will definitely recommend you! The books were read very well. Overall 5 stars!
The Finger
- Excellent
The book itself is a divine gift to the world. It makes you feel like a fly on the wall in the room when the gods were discussing the basic fundamentals of society. The read, however, I found the first reader to be absolutely perfect for this, I wish he could have read through all of it, but the others are good too.
anarchist archivist
- not bad!
Most of the readers are very clear (with the exception of whoever is reading Book 2 Part 3). This was a difficult book to get through for me, but it is still considered to be a classic and is pretty helpful in understanding Aristotle's work and thought.