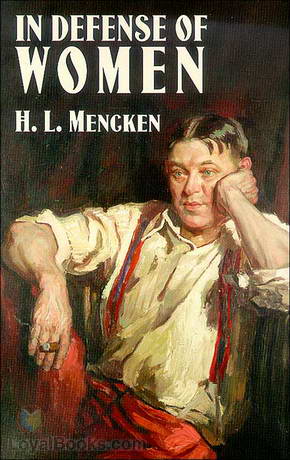 In Defense of Women
Henry L. Mencken (1880-1956)
1. 00 Introduction
2. 01 The Feminine Mind
3. 02 The War Between the Sexes (Part 1)
4. 03 The War Between the Sexes (Part 2)
5. 04 Marriage, Part 1
6. 05 Marriage, Part 2
7. 06 Marriage, Part 3
8. 07 Woman Suffrage, Part 1
9. 08 Woman Suffrage, Part 2
10. 09 Woman Suffrage, Part 3
11. 10 The New Age, Part 1
12. 11 The New Age, Part 2
(*) Your listen progress will be continuously saved. Just bookmark and come back to this page and continue where you left off.
Summary
In Defense of Women is H. L. Mencken's 1918 book on women and the relationship between the sexes. Some laud the book as progressive while others brand it as reactionary. While Mencken didn't champion women's rights, he described women as wiser in many novel and observable ways, while demeaning average men. According to Mencken's biographer, Fred Hobson: Depending on the position of the reader, he was either a great defender of women's rights or, as a critic labelled him in 1916, 'the greatest misogynist since Schopenhauer','the country's high-priest of woman-haters.'
Reviews
Neil
- In Defense of Women
This book was my first experience with Mencken. Aghast at the first listen, it took me a second listen to grasp the true nature of the observational humor. I would compare Mencken to Twain (my favorite) for his comprehensive understanding of the sad aspects of human nature, and his ability to wrap it in a palatable veneer of razor sharp sarcasm and depth of wit. Incidentally, the reader for this has the most absolute PERFECT VOICE for the material. I almost felt as though Mencken himself was rendering a personal reading for only me. The reader's execution was flawless.