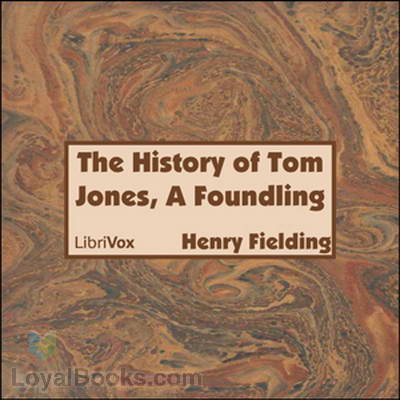 The History of Tom Jones, A Foundling
Henry Fielding (1707-1754)
1. 00 – Dedication
2. 01 – Bk 01: Ch 01-03
3. 02 – Bk 01: Ch 04-06
4. 03 – Bk 01: Ch 07-10
5. 04 – Bk 01: Ch 11-13
6. 05 – Bk 02: Ch 01-03
7. 06 – Bk 02: Ch 04-06
8. 07 – Bk 02: Ch 07-09
9. 08 – Bk 03: Ch 01-03
10. 09 – Bk 03: Ch 04-06
11. 10 – Bk 03: Ch 07-10
12. 11 – Bk 04: Ch 01-03
13. 12 – Bk 04: Ch 04-06
14. 13 – Bk 04: Ch 07-10
15. 14 – Bk 04: Ch 11-14
16. 15 – Bk 05: Ch 01-03
17. 16 – Bk 05: Ch 04-06
18. 17 – Bk 05: Ch 07-09
19. 18 – Bk 05: Ch 10-12
20. 19 – Bk 06: Ch 01-03
21. 20 – Bk 06: Ch 04-06
22. 21 – Bk 06: Ch 07-10
23. 22 – Bk 06: Ch 11-14
24. 23 – Bk 07: Ch 01-03
25. 24 – Bk 07: Ch 04-06
26. 25 – Bk 07: Ch 07-09
27. 26 – Bk 07: Ch 10-12
28. 27 – Bk 07: Ch 13-15
29. 28 – Bk 08: Ch 01-03
30. 29 – Bk 08: Ch 04-06
31. 30 – Bk 08: Ch 07-09
32. 31 – Bk 08: Ch 10-12
33. 32 – Bk 08: Ch 13-15
34. 33 – Bk 09: Ch 01-03
35. 34 – Bk 09: Ch 04-07
36. 35 – Bk 10: Ch 01-03
37. 36 – Bk 10: Ch 04-06
38. 37 – Bk 10: Ch 07-09
39. 38 – Bk 11: Ch 01-03
40. 39 – Bk 11: Ch 04-06
41. 40 – Bk 11: Ch 07-10
42. 41 – Bk 12: Ch 01-03
43. 42 – Bk 12: Ch 04-06
44. 43 – Bk 12: Ch 07-10
45. 44 – Bk 12: Ch 11-14
46. 45 – Bk 13: Ch 01-03
47. 46 – Bk 13: Ch 04-06
48. 47 – Bk 13: Ch 07-09
49. 48 – Bk 13: Ch 10-12
50. 49 – Bk 14: Ch 01-03
51. 50 – Bk 14: Ch 04-06
52. 51 – Bk 14: Ch 07-10
53. 52 – Bk 15: Ch 01-03
54. 53 – Bk 15: Ch 04-06
55. 54 – Bk 15: Ch 07-09
56. 55 – Bk 15: Ch 10-12
57. 56 – Bk 16: Ch 01-03
58. 57 – Bk 16: Ch 04-06
59. 58 – Bk 16: Ch 07-10
60. 59 – Bk 17: Ch 01-03
61. 60 – Bk 17: Ch 04-06
62. 61 – Bk 17: Ch 07-09
63. 62 – Bk 18: Ch 01-03
64. 63 – Bk 18: Ch 04-06
65. 64 – Bk 18: Ch 07-09
66. 65 – Bk 18: Ch 10-11
67. 66 – Bk 18: Ch 12-13
(*) Your listen progress will be continuously saved. Just bookmark and come back to this page and continue where you left off.
Summary
Tom Jones is considered one of the first prose works describable as a novel. The novel is divided into 18 smaller books. Tom Jones is a foundling discovered on the property of a very kind, wealthy landowner, Squire Allworthy. Tom grows into a vigorous and lusty, yet honest and kind-hearted, youth. He develops affection for his neighbor's daughter, Sophia Western. On one hand, their love reflects the romantic comedy genre popular in 18th-century Britain. However, Tom's status as a bastard causes Sophia's father and Allworthy to oppose their love; this criticism of class friction in society acted as a biting social commentary. The inclusion of prostitution and sexual promiscuity in the plot was also original for its time, and also acted as the foundation for criticism of the book's "lowness."
Reviews
Philip
- Just okay
The reading quality varied, but was generally acceptable. The content includes lots of immorality and foul language. I was surprised something so smutty could be published in the 1700's.