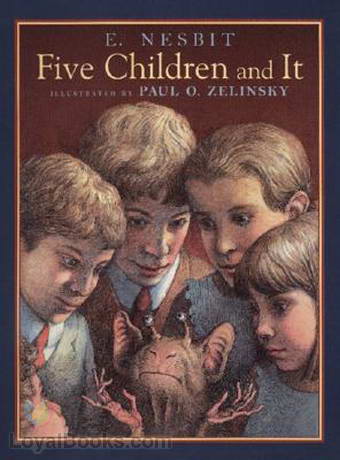 Five Children and It
Edith Nesbit (1858-1924)
1. 01 - Beautiful as the Day
2. 02 - Golden Guineas
3. 03 - Being Wanted
4. 04 - Wings
5. 05 - No Wings
6. 06 - A Castle and No Dinner
7. 07 - A Siege and Bed
8. 08 - Bigger Than the Baker's Boy
9. 09 - Grown Up
10. 10 - Scalps
11. 11 - The Last Wish
(*) Your listen progress will be continuously saved. Just bookmark and come back to this page and continue where you left off.
Summary
The first book in the Psammead Trilogy, Five Children and It follows the fantastical adventures of five siblings who encounter an outlandish creature with a strange ability to grant wishes. Though the idea of having their wishes brought to life, the children quickly discover that not every wish turns out to be as wondrous as initially believed. The children's novel offers a generous amount of fantasy, humor, and adventure, as the children are repeatedly subject to wishes gone amusingly awry. The magic begins when playful siblings Robert, Anthea, Cyril, Jane and their baby brother move to the countryside during the summer, not yet aware of the excitement to follow. One day, while digging at a sand pit to reach the other side of the world, the group comes across a bizarre furry creature with a misshapen body known as a Psammead, which they later learn has power to grant wishes. Subsequently, the Psammead agrees to grant one wish per day, but not without a catch, as he grants the wishes according to his own mischievous interpretation. He also informs them that each wish lasts until sunset. So, the siblings find themselves in quite the surprising predicaments, as their ambiguous wishes are manipulated by the Psammead, who in turn equips the children with wings, provides them with unrecognizable beauty, a useless treasure, and a terrifying encounter with Native Americans. Despite their initial thrill about their wishes being fulfilled, the siblings promptly discover the negative side of their desires, as Nesbit cleverly presents the notion that one must be careful what they wish for, because once granted, its accompanying consequences might not seem all that glorious. Celebrated throughout generations, Five Children and It has been able to sustain its magical appeal through its endearing characters and the vivid portrayal of the ingenuous wishes. In addition, Nesbit's novel evocatively brings to life the imagination of its audience, as it awakens the child within with its effective use of witty language and descriptive imagery. Nevertheless, the novel presents a magical haven sure to be revisited time and time again.
Reviews
Itsa Me
- Listen to it!
A charming book filled with charming characters and charmingly read.
Julie
- Review
Hmmmm..... this one a very different book. Very well narrated by Jenny Lundack. It's fantasy but the author really thought outside the box. A mix of modern fantasy and old. Kept me busy when I needed it. :0)
no personal info sorry
- kinda creepy
I don't know wh at E.nesbit was thinking but that book is creepy so weird did you here about the kid who wished he was dead or the Psammead it had the face of a snail and the arms and legs of a monkey and a big fat plump body in the middle!! its sooooo weird and creepy!!!
Reader
Nice and interesting book and the lady actually sounds like your grandma.
Deez nutz
- Haaaaaah gadi
Hate it lady is so slow and sounds retarted
dason
the reader reads the book good and it is like your grandmother reading it to you. it is good. i meant to put 5 stars
maggie kid
- english
Very good I think that the ladys voice is perfect for the book!!!
Sweet and endearing reader. A perfect match for a quirky old book. Like being read to by my own grandmother.
R.M. - Age 8
This is a great story. My favorite character was the Psammead. I wish he was real.
Listener
- Like being read to by your favorite grandmother
Such a fun story. Read it as a child and was very happy to come back to it now. At first I was a bit disappointed, that the reader was not British, but Jenny reads so lovingly like your favorite grandmother, that I soon forgot about that and settled into the story. Highly recommended!