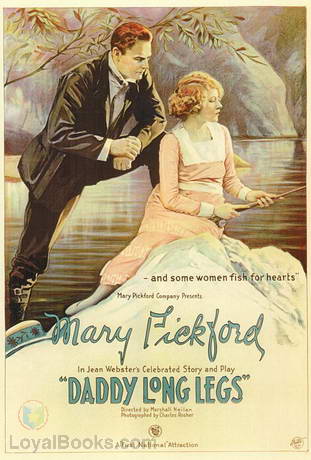 Daddy-Long-Legs
Jean Webster (1876-1916)
1. 01 - Blue Wednesday
2. 02 - Freshman Year 1
3. 03 - Freshman Year continued
4. 04 - Sophomore Year 1
5. 05 - Sophomore Year continued
6. 06 - Junior Year 1
7. 07 - Junior Year continued
8. 08 - Senior Year
9. 09 - Graduate
(*) Your listen progress will be continuously saved. Just bookmark and come back to this page and continue where you left off.
Summary
Jerusha Abbott, an eighteen year old orphan, faces an uncertain future in the charity home where she has lived all her life. On reaching adulthood, the orphanage can no longer offer shelter to its inmates. Her anxiety leads her into wild speculation when she is summoned to the matron's office. But a surprise awaits her. One of the visitors, a wealthy Trustee of the orphanage, has offered to fund Jerusha's college education and fulfill her dreams of becoming a writer. The only condition he makes is that he remain anonymous and that she write to him regularly about her progress. Daddy-Long-Legs by Jean Webster was first published in 1912. It follows an epistolatory format and traces the story through a series of letters exchanged between the youthful heroine, Jerusha and her mysterious benefactor whom she has privately nicknamed Daddy-Long-Legs based on a brief glimpse she caught of him once. The book is a young girl's classic coming-of-age tale, a genre that includes the Little Women trilogy, the Katy series and the Anne of Green Gables books. Apart from being a heart-warming story, it also reflects the author's social concerns and her interest in women's issues and the suffragette movement. It is in a way a Beauty and the Beast fairy tale that reflects the transformation of the characters and their attitudes towards each other and life. Jean Webster was born in New York into a literary family. Her father, Charles Webster was Mark Twain's business manager and head of Twain's publishing company, Charles Webster & Co. Her mother was a strong, independent woman, Mark Twain's own niece, who came from a family of forceful matriarchs. However, after initial success, the publishing business and the relationship with the famous author deteriorated and the family moved back to their old home in Fredonia. She began writing columns for local newspapers while traveling on holiday in Europe and published her first book, When Patty Went to College in 1903. Daddy-Long-Legs is Webster's most famous and popular novel and first appeared as a serial in the Lady's Home Journal. So great was its popularity that Jean Webster was commissioned to adapt it for stage in 1913. She toured with the theater company and enjoyed even greater success. Daddy-Long-Legs dolls became all the rage in that era! She died tragically in childbirth in 1916. Daddy-Long-Legs has been adapted to film, stage and television several times all over the world in many different languages and the century-old story still has the power to keep readers, young and old, enthralled.
Reviews
Biased Perspective
- Really well read...
Really well read. The book is fine as it is too predictable but still an enjoyable listen.
Alina Tamayo
- Daddy Long Legs
Loved every minute of this beautiful book. So much so, that I read it again as soon as I finshed it, to appreciate even more every detail. I am ready to start Dear Enemy.The readr is OUTSTANDING!!! Thank you very much.
Lady L
- Daddy long legs
Love this book. Had me from the start to the end. Nicely red, thank you:)
ravenriley
- kudos
the reader is excellent, i felt i have lived the story through her reading, plays this in the background whenever i try to sleep. its relaxing.
KS
- Daddy Long Legs
Loved this book as a child and am now 76 years old and enjoying it very much. A very human approach and unusual style of narration. Recommend this book strongly.
dg
- dll
Jo, I'm sure this was such a fun book to read and you did a wonderful job! Sorry Lisa didn't appreciate your pleasure and since we cannot ask the author about the inflection, I'll just agree with the way you did it. Fun story.
kayjay
Wonderful reader! Always an interesting book.
Lisa R
- daddy long legs
Wow, I completely disagree with prior reviews. I found the reader to be annoyingly distracting. She puts way too much of herself in it, trying to be coy, arch, and impudent to match how she sees the main character. I appreciate her time donated, but think the reading should be like a blank canvass, not competing with the author. This isn't the place for thwarted acting ambitions. Sorry but that's how I feel.
Roya
- Fall in Love with this Book
I had seen the cartoon version of this book while ago, listening to it was even more amazing. The reader is wonderful. She reads it so passionately that make you feel you are actually watching characters.
Cheryl
- Daddy Long Legs
This was my favourite book when I was 14 (forty years ago). I enjoy listening to audio books while I knit and thoroughly enjoyed this reading.