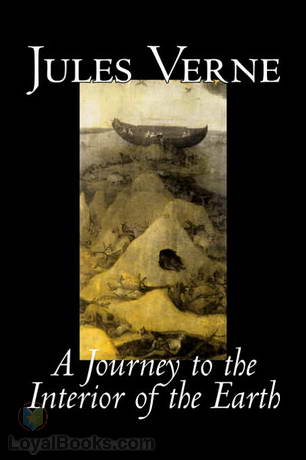 A Journey to the Interior of the Earth
Jules Verne (1828-1905)
1. Chapters 01 to 03
2. Chapters 04 to 06
3. Chapter 07
4. Chapter 08
5. Chapter 09
6. Chapter 10
7. Chapter 11
8. Chapter 12
9. Chapter 13
10. Chapter 14
11. Chapter 15
12. Chapter 16
13. Chapter 17
14. Chapter 18
15. Chapter 19
16. Chapter 20
17. Chapter 21
18. Chapter 22
19. Chapter 23
20. Chapter 24
21. Chapter 25
22. Chapter 26
23. Chapter 27
24. Chapter 28
25. Chapter 29
26. Chapter 30
27. Chapter 31
28. Chapter 32
29. Chapter 33
30. Chapter 34
31. Chapter 35
32. Chapter 36
33. Chapter 37
34. Chapter 38
35. Chapter 39
36. Chapter 40
37. Chapter 41
38. Chapter 42
39. Chapter 43
40. Chapter 44
41. Chapter 45
(*) Your listen progress will be continuously saved. Just bookmark and come back to this page and continue where you left off.
Summary
A historical manuscript penned by a medieval Norse poet. A mysterious code. Three intrepid explorers. A subterranean world filled with prehistoric creatures and proto-humans. These are some of the brilliant ideas that are superbly blended in A Journey to the Interior of the Earth by Jules Verne. Jules Verne, the French writer who created several works of science fiction, adventure stories and very popular novels, wrote A Journey to the Interior of the Earth in 1864. Some of his other books explore different aspects of geography, space and time travel. Known as the "Father of Science Fiction" Verne's books have retained their freshness and appeal though many of the ideas propounded in them have been proved erroneous as a result of modern discoveries and explorations. Though Verne wrote popular fiction, few readers would know that he based his writing on solid research and scientific principles. A Journey to the Interior of the Earth drew inspiration from the works of a Victorian geologist, Sir Charles Lyell, who wrote extensively on the origins of the human race from a geological perspective. The book was originally translated into English by Rev. F A Malleson in 1877. Since then several English translations have been made, with the title being sometimes changed to A Journey to the Center of the Earth. Other publishers have had the book completely rewritten, with additions, omissions and changes of name. In this original version of the novel, Professor Otto Lidenbrock is a German mineralogist who lives in Hamburg. He rushes home one afternoon, elated by his purchase of an ancient manuscript from an antique shop. His nephew, Axel who lives with him is less than enthusiastic when he hears that the book is written in Runic script and is an Icelandic saga concerning the old Norse kings. A dirty piece of parchment falls out of the bundle of pages and it appears to be written in code. This grabs Axel's interest and the two spend days trying to crack the cipher. When they finally do, they discover that it has been written by an alchemist who claims that he has traveled to the interiors of the earth via a volcanic tube. Excited beyond measure, the professor drags his reluctant nephew to Iceland, where a local hunter joins them in a truly fantastic voyage.
Reviews
Julie
- Review
I loved this book! All the narrators did a wonderful job! Thank you all!
Deborah
- Great book
Vinny Vove is an excellent reader. Great story!
Katie
- Quite Nice
I do love this book. It was good to listen to however, as already mentioned several of the chapters were read quite slowly and seem to interrupt the moment of the book itself. Love the way the first 3 chapters are read.
Hihello
- nice
Chapters 7, 8 and 9 are not very good to listen, because fellow who reads them does it very slowly... Other than that its a good book.
Nirmal
Excellent story, one of my favorites from Jules Verne.
Roman
- great
This book has definitely become one of my favorites. The way it has been written is just amazing. Jules Verne is a great writer and I have listened to his stories and they are great. I love them. This story is amazing as well and the narrators did quite well. It would be even better if it was just one, I wanted to give this book a 4 star rating, but after I finished listening I just can't. It's a 5 star rating even though it was not just one reader but more. At last they did pretty decent jobs though.
The reader takes painfully long pauses that takes me out of the story every time. Other than that, he is fluent and has created a different voice for each character, which is helpful. Overall, well done. This refers to chapter readings by Hugh McGuire.
Jake Kvpp
I love this book
Malachi Capela
This book is awesome!!!!!