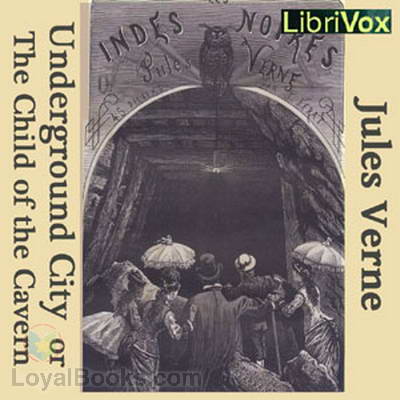 The Underground City or The Child of the Cavern
Jules Verne
1. 01 - Chapter 1
2. 02 - On the Road
3. 03 - The Dochart Pit
4. 04 - The Ford Family
5. 05 - Some Strange Phenomena
6. 06 - Simon Ford's Expirement
7. 07 - New Aberfoyle
8. 08 - Exploring
9. 09 - The Fire Maidens
10. 10 - Coal Town
11. 11 - Hanging by a Thread
12. 12 - Nell Adopted
13. 13 - On the Revolving Ladder
14. 14 - A Sunrise
15. 15 - Loch Lomond and Loch Katrine
16. 16 - A Final Threat
17. 17 - The Monk
18. 18 - Nell's Wedding
19. 19 - The Legend of Old Silfax
(*) Your listen progress will be continuously saved. Just bookmark and come back to this page and continue where you left off.
Summary
Covering a time span of over ten years, this novel follows the fortunes of the mining community of Aberfoyle near Stirling, Scotland. Receiving a letter from an old colleague, mining engineer James Starr sets off for the old Aberfoyle mine, thought to have been mined out ten years earlier. Starr finds mine overman Simon Ford and his family living in a cottage deep inside the mine; he is astonished to find that Ford has made a discovery of the presence of a large vein of coal. Accompanying Simon Ford are his wife, Madge, and adult son, Harry.
Reviews
Julie
- Review Child of the Mine
Wonderful book! Sean Michael Hogan can read to me any day! The woman however should only be reading children's books! I recommend this book to all of Jules Vernes fans.