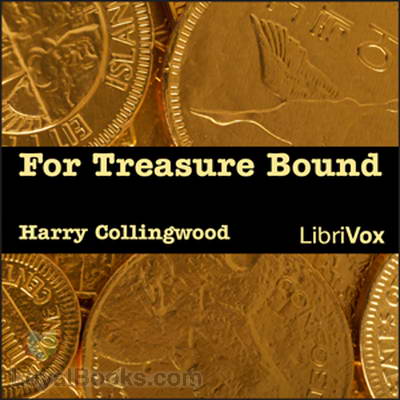 For Treasure Bound
Harry Collingwood (1851-1922)
1. 01 - The Wreck
2. 02 - The Secret
3. 03 - Bob's Proposition
4. 04 - Our Trial Trip
5. 05 - A Gale In The Bay Of Biscay
6. 06 - The Fate of the Amazon
7. 07 - The Sea Serpent
8. 08 - Bob's Dream
9. 09 - A Cape Horn Gale
10. 10 - Chased By Pirates
11. 11 - The Chase Diverted
12. 12 - The Wreck of the Copernicus
13. 13 - A Mirage
14. 14 - At Close Quarters With A Shark
15. 15 - The Lily Among Breakers
16. 16 - Attacked By Savages
17. 17 - Important News
18. 18 - Destruction of the Albatross
19. 19 - My Father
20. 20 - The Treasure
(*) Your listen progress will be continuously saved. Just bookmark and come back to this page and continue where you left off.
Summary
For Treasure Bound is one of the earlier novels by Harry Collingwood (William Joseph Cosens Lancaster), published in 1897. We follow the hero, whose name is incidentally also Harry Collingwood, on a quest to the pacific islands for treasure and his marooned father, through all the perils he encounters on his journey, such as pirates, sea monsters, and beautiful young ladies. (Summary by Carolin)
Reviews
Bernie
- For Treasure Bound
A reasonable story, heavily 'rigged' with nautical terms and if that is your thing you'll probably enjoy it more than I did. Multiple narrators are a detracting factor though on this occassion they are for the most part good.