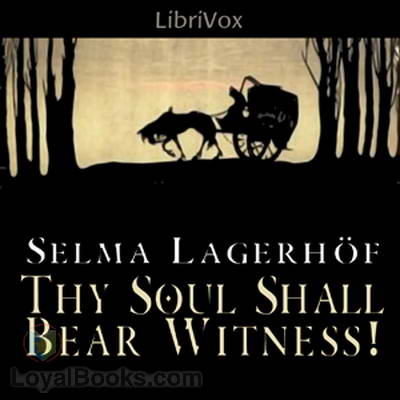 Thy Soul Shall Bear Witness!
Selma Lagerloef (1858-1940)
1. 01 - THE STORM WITHIN THE SOUL
2. 02 - THE BIRTH OF A NEW YEAR
3. 03 - THE DEATH-CART . . .
4. 04 - A CALL EROM THE PAST
5. 05 - SISTER EDITH PLEADS WITH DEATH
6. 06 - THE OLD WOMAN ON THE ROADSIDE
7. 07 - THE STRUGGLE OF A SOUL
8. 08 - DAVID HOLM RETURNS TO PRISON
9. 09 - THE DRIVER'S PRAYER
(*) Your listen progress will be continuously saved. Just bookmark and come back to this page and continue where you left off.
Genres
Summary
"Thy Soul shall bear Witness" (Körkarlen) by the Swedish Nobel Laureate Selma Lagerlöf is a kind of spooky Novel. It was first published in 1912 and in English in 1922, the same year as the international release of the Silent Movie "The Phantom Carriage", today considered a classic movie, and one that strongly influenced the Swedish Director Ingmar Bergman. A second Movie based on the Novel was made again in 1958. In English the Novel is today very rare, very few copies are said to exist. - It is New Years Eve. David Holm who has become a depraved drunkard is sitting with some comrades in a Church-Yard, drinking, and telling a story he has heard some years earlier from a friend, George, about the Death-Cart, and how a person who dies on New-Years eve when the clock strikes Midnight will have to take over the Death-Cart as driver. The Death-Cart is a beaten-down horse-drawn carriage, drawn by a very old, one eyed horse, which travels the earth to pick up the souls of the dead and take them to heaven or hell. And as it happens, after a brawl, David is dying in the Church-Yard just as the clock strikes midnight, and a cart, moving closer and closer, is heard creaking. And at the reins sits David's old friend, George. In another part of the town a little slum sister, Edit, is dying. She has tried to help both David Holm and his family, in vain. Her only wish is to see David before she dies. She can not help it, but she loves him. George has come to introduce David into the job of becoming driver of the Death-Cart, as David is now going to relieve him from the task, and to show David what his life has been, and visiting his past, and also Edith, in her last moments. This story may be quite a bit different from most of Selma Lagerlöf's other Novels. But at the same time it is, as many of her stories, a story about love, forgiveness and redemption, and most captivating.