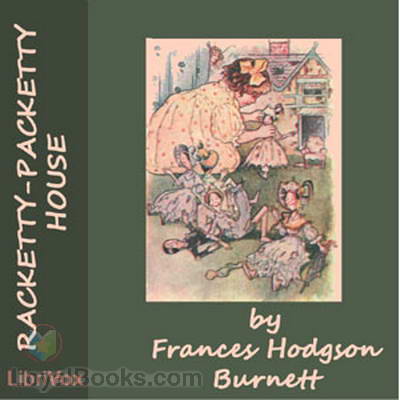 Racketty-Packetty House and other stories
Frances Hodgson Burnett (1849-1924)
1. 01 - Racketty-Packetty House Part 1
2. 02 - Racketty-Packetty House Part 2
3. 03 - Racketty-Packetty House Part 3
4. 04 - Surly Tim Part 1
5. 05 - Surly Tim Part 2
6. 06 - The Land of the Blue Flower Part 1
7. 07 - The Land of the Blue Flower Part 2
8. 08 - The Little Hunchback Zia Part 1
9. 09 - The Little Hunchback Zia Part 2
10. 10 - Esmeralda Part 1
11. 11 - Esmeralda Part 2
12. 12 - My Robin
13. 13 - Mere Giraud's Little Daughter
(*) Your listen progress will be continuously saved. Just bookmark and come back to this page and continue where you left off.
Summary
This is a collection of short stories and fairy tales by Frances Hodgson Burnett, the author of The Secret Garden and A Little Princess.
Reviews
Racketty-Packetty House and other stories
- Short stories
It goes without saying the author is one of the best but what I really wanted to comment on were the readers; all were fantastic, so enjoyable to listen to because I could understand them!!! Some reader's accents are so thick it makes it makes one always trying to catch up from trying to figure out what they just read, clarity is vital to listeners. Thank you for a great reading job.