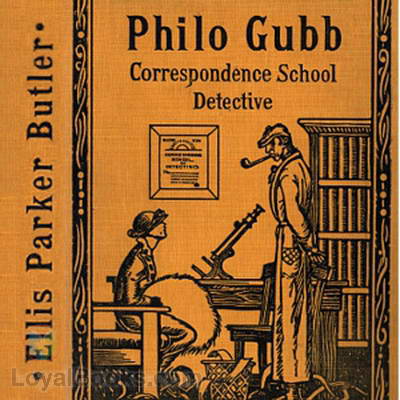 Philo Gubb, Correspondence-School Detective
Ellis Parker Butler (1869-1937)
1. 01 - The Hard-Boiled Egg
2. 02 - The Pet
3. 03 - The Eagles Claws
4. 04 - The Oubliette
5. 05 - The Un-Burglars
6. 06 - The Two-Cent Stamp
7. 07 - The Chicken
8. 08 - The Dragon's Eye
9. 09 - The Progressive Murder
10. 10 - The Missing Mr. Master
11. 11 - Waffles and Mustard
12. 12 - The Anonymous Wiggle
13. 13 - The Half of a Thousand
14. 14 - Dietz's 7462 Bessie John
15. 15 - Henry
16. 16 - Buried Bones
17. 17 - Philo Gubb's Greatest Case
(*) Your listen progress will be continuously saved. Just bookmark and come back to this page and continue where you left off.
Summary
Philo Gubb, not being content with his job as wallpaper-hanger, has higher aspirations: to become a detective, just like Sherlock Holmes. To that end, he enrolls in a correspondence course, where he gets lessons through the mail as well as the necessary disguises for a detective. Philo Gubb, not being really clever or intuitive, or even looking good in those disguises, gets involved in one case after the other - and sooner or later happens to stumble on and solve the crime... Each of these stories is a complete mystery unto itself so if you read just one, you will know it's beginning and the unorthodox methods by which Philo Gubb, Correspondence-School Detective solves it using his woeful 'deteckative' (as he puts it) skills.
Reviews
Bernie
- Philo Gubb Correspondence School Detective
If you appreciate bumbling detectives then this series of stories will appeal, they did nothing for me. Most of the readers are good however some of the readers are not worth listening to at all.
andy wogan
A very amusing series of tales with a constant storyline running throughout