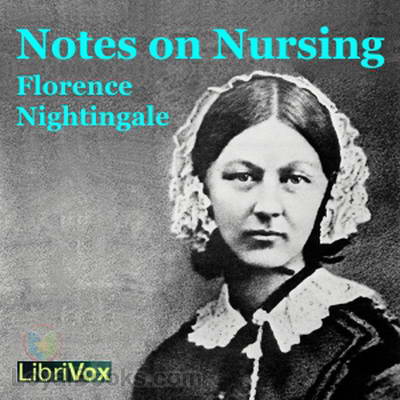 Notes on Nursing
Florence Nightingale (1820-1910)
1. 00 - Preface
2. 01 - Ventilation and Warming
3. 02 - Health of Houses
4. 03 - Petty Management
5. 04 - Noise
6. 05 - Variety
7. 06 - Taking Food
8. 07 - What Food?
9. 08 - Bed and Bedding
10. 09 - Light
11. 10 - Cleanliness of Rooms and Walls
12. 11 - Personal Cleanliness
13. 12 - Chattering Hopes and Advices
14. 13 - Observation of the Sick
15. 14 - Conclusion
(*) Your listen progress will be continuously saved. Just bookmark and come back to this page and continue where you left off.
Summary
Notes on Nursing was published in 1859 and is a fascinating view into the theories underpinning the early development of modern nursing and public health reform by "the Lady with the Lamp", Florence Nightingale. Emphasising common sense and thought for the patient's care in many more ways than just administering physician-prescribed medicines, this is still a very relevant book for those interested in health or caring for the sick and infirm today.Summary by Cori Samuel.
Reviews
Hannah
- Delightful read
Cori Samuel has a perfectly delightful reading voice and manner! The book itself is fascinating as a description of common life in the late 1800's and Cori makes it even more fascinating by her perfect clarity and expression. I feel as if I am listening to the voice of Florence Nightingale herself. I've gotten through four hours of cleaning and cooking with hardly thought of the work, so thoroughly enthralling is this reading. Not to mention how it inspired me to go on with renewed purpose as I heard the various exhortations to cleanliness! I can't say enough good things about this book and reader. I am so glad Cori Samuel did this reading solo. I have already looked up her other solo readings and am adding some of them to my list.